DCC LED Scene Controller II

TM
The LSC II is a DCC controllable LED Ligthing controller. However, you DONT have to have a DCC to use it - it can work standalone. Use our high quality inexpensive LED "chips" in one of four colors. The controller is compatible with any JST plug system including those from Woodland Scenic.
Includes 100 pre-configured special effects!
You can control the brightness of each individual port on the controller.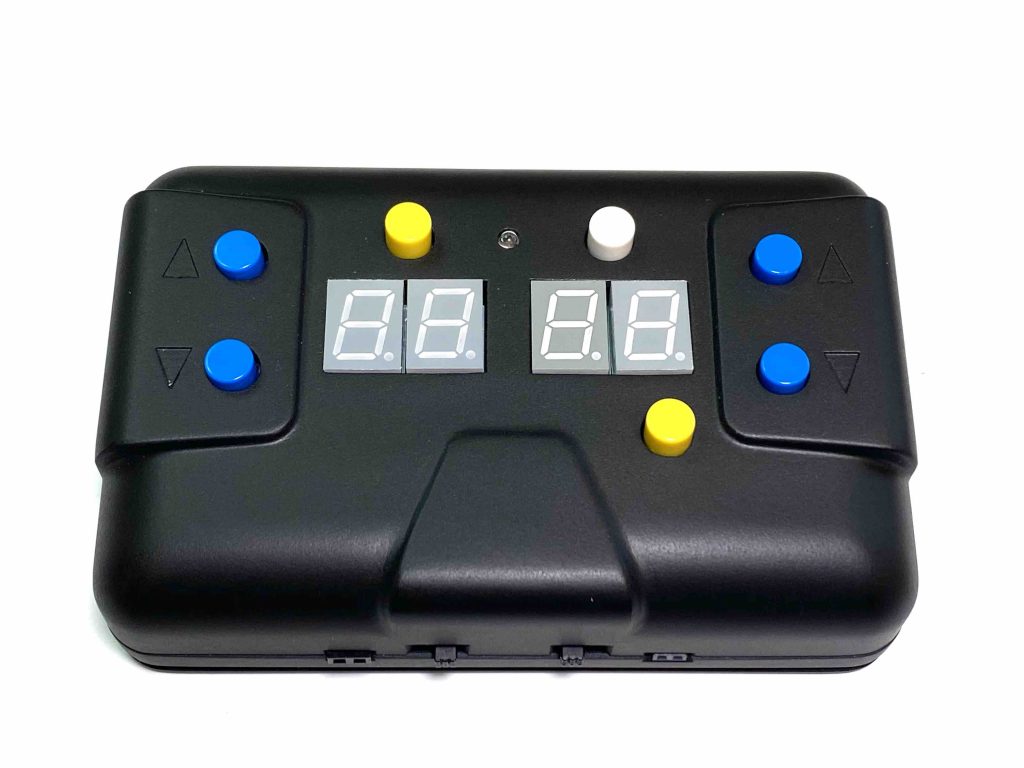 LED Scene Controller description:
The LED Scene Controller allows you to SIMPLIFY your LED wiring and animation and SAVE MONEY by avoiding the purchase multiple and disparate products.
In order to do all the things that the LED Scene Controllers do you would have to purchase at LEAST this list of items and it still would not be as easy:
(4) Woodland Scenic(r) Hubs at $14.95 each = $60
(16) Woodland Scenic LEDs at $8~9.00 a pair =. $64
(4) Digitrax(r) Four function multi-function decoders = $60
(12) Dedicated special effects boards that blink, flash, etc. = $180
All that would normally cost you more than $350.00 !!
You get ALL this functionality in one 16 port system that comes in a convenient mount-able case!
ALL FOR $169!!
Or consider our kits with Power Supply and Pre-wired LEDS with JST plugs. a $185 value for only $169.
Also, don't forget to choose a Mounting Bracket for slide in, slide out ease.
All our products are available for mix and match combinations along with choice of LED colors, and wiring types.
The LSC II eliminates all the messy wiring and trying to figure out what power supply to use or what resistor value to use (LED's all require in-series resistors). The resistors all included and built into the board.
The LSC II (LED Scene Controller II) with the Keypad comes with 100 pre coded special effects. You simply select one of the 16 ports, selected the FX (special effect) that you want, and push the save button on top. Then turn off the keypad with the on/off button and the LSC will immediately begin to animate your layout.
Do you want to make a change, adjust a single LED brightness, add a different effect? Just push the keypad ON button, adjust the setting with the up and down buttons and press Save.
That is all there is to it. The manual is only two pages!
NO PROGRAMMING. NO SOLDERING. NO RESISTORS. NO HEADACHES or FRUSTRATION.
If you like, you can purchase the case mounting bracket, mount it anywhere on your layout and the slide the LSC onto the bracket. It will hold with friction – easy to install, easy to remove and change.
You can power the LSC and your LEDs with any 12-25V AC or DC power supply. On the order page we list a link to where you can purchase for an internet supplier an 18VDC adapter that has the barrel plug that fits the LSC. You can also plug your Woodland Scenic power adapter into the JST socket so you can reuse that with our system.
You DO NOT need a DCC system to use the LED Scene Controller(tm). But you can if you have one!
You can start our with our control system with the case and add DCC later.
All Model Train Technology(TM) controllers have on board DCC decoders. You can configure and control ALL the functions of the LSC from you Digitrax, NCE or other DCC system – including JMRI.
If you are comfortable with DCC and have a DCC system you do not need to have the keypad version with case. You can purchase one of our "naked" boards which have all the same functions as the Case & Keypad version.
We are listening.
If you have any questions, please do not hesitate to send us a message. We reply within 24 hours !
If you need immediate assistance please call (407) 242-5436
[wpforms id="1057″ title="false" description="false"]