During the past three years of selling our Caboose boards with DCC Decoder we heard from many modelers who loved the idea but only have a small DC layout so they wanted a NON-DCC version.  "Nothing Fancy" they say.
Here it is!   This is the N Scale Caboose Board for DC only operations.  It includes 2 SuperCaps and the circuitry to run on any DC layout up to 18VDC.  And, no flicker!  We also include a LED Chip in case you want to light your Cupola and it includes a Fiber Optic lit Lantern !   We include a set of Floating Brass strips and some 36 AWG wire to connect it all together.
HO Version Coming soon!
On board are a set of 3 Resistors with matching solder pads.  You can adjust the brightness of the onboard LEDs by choosing the combination of LEDs and soldering their pad. (You can remove the solder and change the light settings.)
Just put it on the track and go.  The board needs at least 5.5V to start the circuit but after that, the light glow at a constant brightness. And no need to figure out polarity!
(Sorry we don't have the full installtion video yet but this is a very simple install.)
Shown below is a customer installation with the fiber Lantern attached.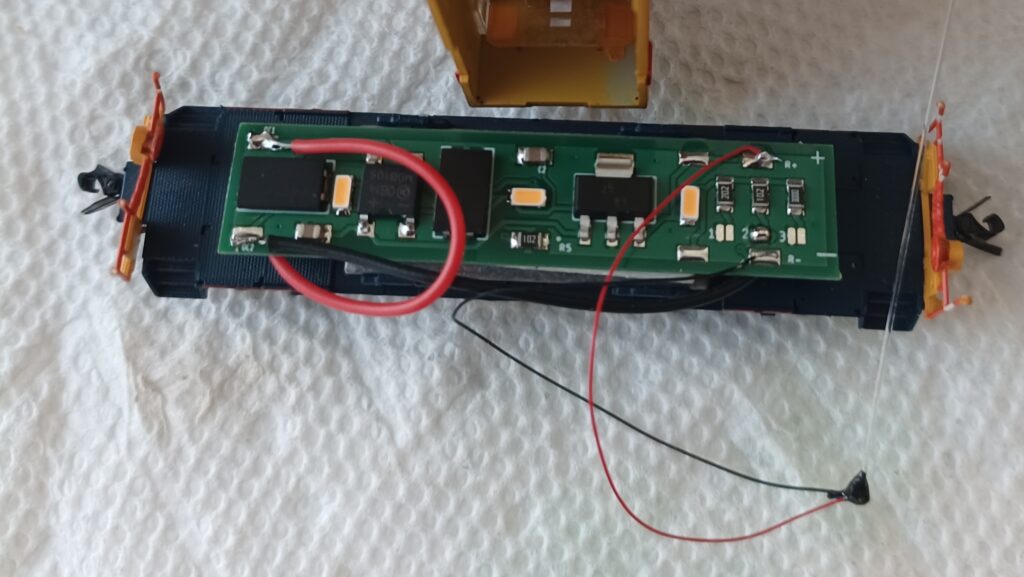 | | |
| --- | --- |
| LED Color (White) | 2000K, 3000K |