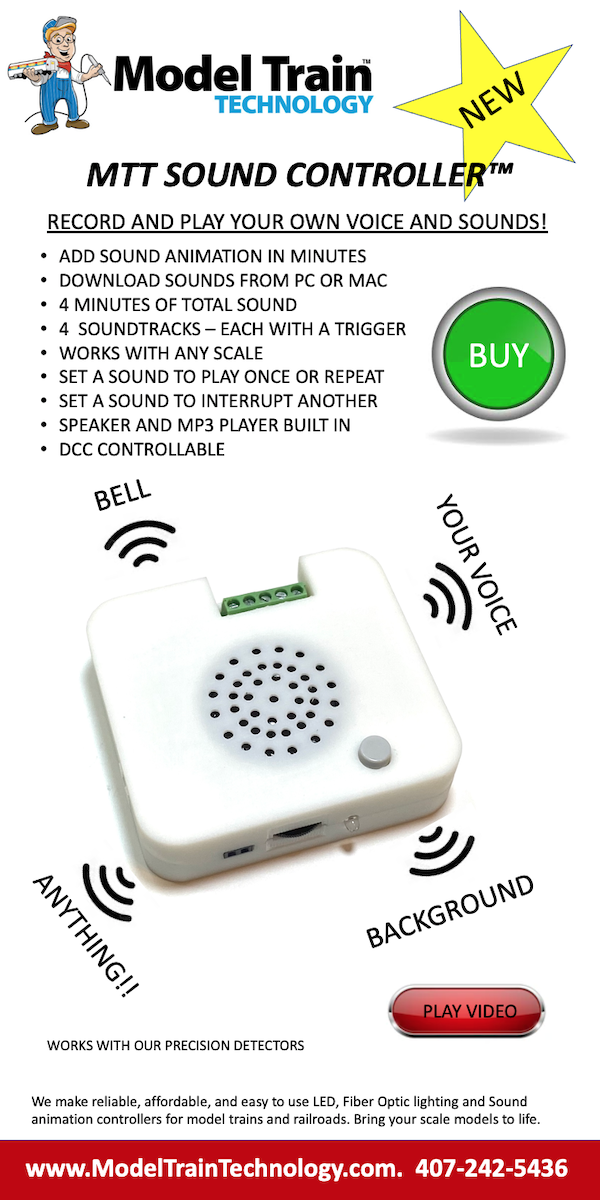 The MTT Sound Controller is unique in many ways. The first is that you can record your own sounds and play them based sensors triggers or switches – or DCC. The Sound Controller has a small MP3 player inside along with a baffled speaker. It provides a big sound in a small package. What is an MP3 player you might ask?
The first Apple Pod music player played a version of the MP3 file format. It is a file format that compresses and filters audio so that file size is smaller and more manageable.
Here are the primary features:
You can download or create your own MP3 audio files and play them on the MTT Sound Controller. You can use your PC, Apple Mac or a mobile phone to create audio files. If you use your phone you will need to copy it to your PC and then convert it to MP3. There are many, many free MP3 conversion programs. Eventually we will have a download page where you can download sounds that we have found or recorded. There are also many web sites to which you can subscribe that have MP3 sound files.
You can record up to 4 minutes of sound.
There are four tracks available so you can mix and match different length audio.
Each track can be triggered separately. This is where it gets fun. There is only one MP3 player so only one of the four sounds can play at a time. However, you can set the sounds to play once and stop or play repeatedly. In addition, you can set a sound trigger to interrupt another sound that might be playing. The video has an example of the full range of these features. These features for each track are set via dip switches on the bottom of the Sound Controller.
The volume of each track can be set and saved separately.
The Sound Controller four triggers can be set by a DCC switch command
There is a speaker outlet that allows you to connect your own speaker and play it remotely out on the layout.
NO PROGRAMMING is required.
To record you own sounds you will need a USB Micro TYPE B cable. Here is the link on AMAZON
AN OPTIONAL MONO AUDIO JACK IS AVAILABLE AT CHECKOUT($4.00).  ADD AN EXTERNAL SPEAKER  with 5′ of wire. ($5.00)) ( LET US KNOW IF YOU NEED A LONGER WIRE.)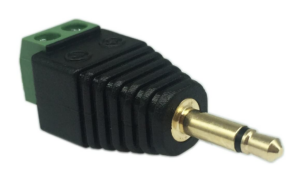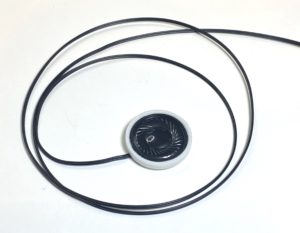 | | |
| --- | --- |
| Weight | 9 oz |
| Bracket | No Bracket, With Bracket ($5) |
| Mono Terminal Jack | No Jack, Add Jack ($4) |
| External Speaker | No Speaker, With Speaker |